Paging through the current issue of Publishers Weekly and browsing all the books that lucky BEA attendees can get their hands on made me wish I was a bookseller with a cute little bookshop on a gentrified old street, and this not for the first time. If I owned a bookstore, I'd be packing my bags for the delish book expo in Chicago and I'd be standing in lines for these, which are now on my Goodreads Want to Read list: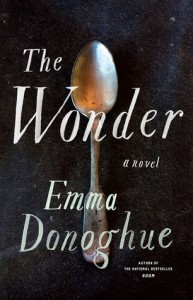 I was a fan of Emma Donoghue's ROOM before long before it became an Oscar-worthy film. I was spellbound by Emma's storytelling skills and how she expertly wove her characters' emotions into my own. In her upcoming THE WONDER, a small Irish village is mystified by what appears to be a miracle but may actually be murder. Goodreads says: "The Wonder works beautifully on many levels–a simple tale of two strangers who will transform each other's lives, a powerful psychological thriller, and a story of love pitted against evil in its many masks." You want to read it now, too, right?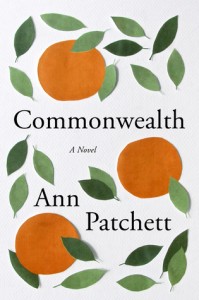 I read Ann Patchett's BEL CANTO ages ago, and knew I'd stumbled upon a stellar wordsmith. I loved her STATE OF WONDER from a couple years back and so am natch looking forward to anything new by her. Her newest, not out until September, is COMMONWEALTH, a story that spans five decades. This novel explores how a chance encounter at a family christening echoes on in the lives of four parents and six children. "Told with equal measures of humor and heartbreak, Commonwealth is a meditation on inspiration, interpretation, and the ownership of stories. It is a brilliant and tender tale of the far-reaching ties of love and responsibility that bind us together."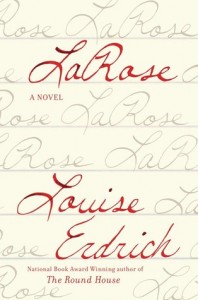 When my family and I lived in Minnesota some years ago, I longed to read a Louise Erdich novel, as she's a Minnesota legend and treasure, but life was so busy, other books took precedence and it never happened. I hereby mostly vow to read this one. Out next month, LaROSE is "an an emotionally haunting contemporary tale of a tragic accident, a demand for justice, and a profound act of atonement with ancient roots in Native American culture."  In the story, which is set in 1999, a father is hunting a deer along the edge of his North Dakota property but realizes after he's pulled the trigger that he has instead shot and killed his neighbor's five-year-old son. Devastated, the man offers up his own beloved son to the grieving family as a recompense. "Inspiring and affecting, LaRose is a powerful exploration of loss, justice, and the reparation of the human heart, and an unforgettable, dazzling tour de force from one of America's most distinguished literary masters."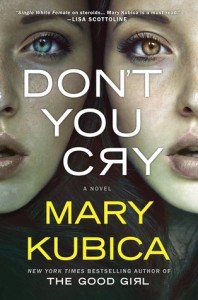 I was thoroughly gobsmacked (isn't that a great word?) by Mary Kubica's THE GOOD GIRL and even though I still have PRETTY BABY on my TBR Tower (a pox on mere 24-hour days!!), I still can't wait to read her upcoming DON'T YOU CRY. Mary is such a great writer, and the nicest person you'll ever meet. That she writes page-turning thrillers casted by such sinister people is so ironic! In this one, a young woman disappears from her apartment. A haunting letter is found among her possessions, leaving her roommate to wonder whether or not her friend is the person Quinn thought she knew. "Mary Kubica takes readers on a taut and twisted thrill ride that builds to a stunning conclusion and shows that no matter how fast and far we run, the past always catches up with us in the end." And yes, yes, yes, I will get to PRETTY BABY before I snatch up this one.
So, even though I have no business buying any of these books in the next few months, I probably will. There are worse addictions than buying new books, yes? What's on your list these days?