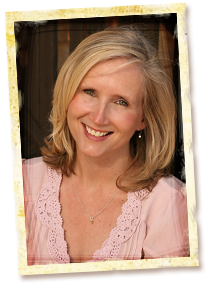 Whenever a year ends and I look back at its days to see which books were my favorite of all those I read, I always get a teensy bit melancholy. Part of me finds it a bid sad that the books that were my favorite have been read. I can't read them again for the first time. And sadder still? I probably won't be able to read them again — ever — because of the other thing that makes me a bit blue on the look-back, and that is that the number of books is always less than what I had hoped for.  The mantra that there are too many books and too little time has never been more true than this stage of my life. The To-Be-Read pile at my bedside (which could double nicely as a ladder to the stars) is now becoming eclipsed by the invisible tower inside my Kindle.  I find it funny and pathetic that earlier this year I bought Orphan Train (yes, one of my other faves for 2013) read it, and then found the dang thing buried on my Kindle – from an earlier purchase in 2013. Sheesh. All that aside, 2013 was a great year for books. Here are my five favorites, in no order at all. It wasn't easy to pick just five, by the way. I had to look at their covers — in color — and gauge how just the mere visual nudge made me feel inside. Here are the five that made me feel the pull of a magnet at just another glance at their covers…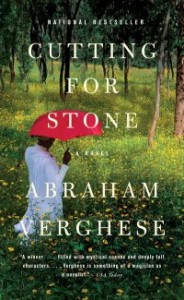 CUTTING FOR STONE
Here was a book that had been sleeping on the TBR shelf all 2012. I finally pulled it out when it became my local book club's pick. I remember thinking that I didn't have time to read a nearly-700-page novel, especially in a squished time frame, and I nearly took that month off from my beloved book club. But Abraham Verghese's masterpiece had me from the very first page. I simply had to know what would become of the likeable and utterly compelling narrator, Marion Stone. The prose was delicious and there were many lines that cut me to the core. Like this one: "Wasn't that the definition of home? Not where you are from, but where you are wanted." And this one: "The key to your happiness is to…own who you are, own how you look, own your family, own the talents you have, and own the ones you don't. [Otherwise] you'll die searching, you'll die bitter, always feeling you were promised more. Not only our actions, but also our omissions, become our destiny."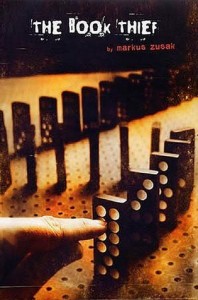 THE BOOK THIEF
Here was another that had been on the AYEGTRI pile (Aren't You Ever Going To Read It!?) I finally did just that after months and months and months of hearing how wonderful a book it was. What finally got me going was I began doing research for a World War II book I was writing.  This is quite likely one of the most cleverly constructed novels I've read in a long time (as was "Where'd You Go, Bernadette?") and I was completely taken by the devastating charm of the narrator. That's all I will say. If you haven't read it yet, what are you waiting for? And please, do yourself a favor and read the book before you go see the movie.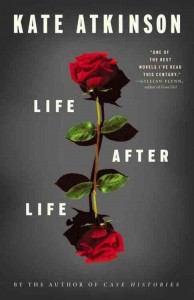 LIFE AFTER LIFE
Speaking of research for World War II, this gem by Kate Atkinson had me spellbound from the first line. And interestingly enough, this was the only book in 2013 that I had read to me, in that I listened to this book on CD on a long car trip to the Sierras. Perhaps having a plethora of British voices speaking the story to me was what fully captivated me, but I am thinking even if I'd read the print version, I'd still be talking this book's praises. The premise alone is brilliant, and the execution of that premise is stellar. Can you imagine what it would be like to keep living your life over and over and over again, and being only barely aware that you are doing so? What would you change? What would you run from or run to or run over? This was Time magazine's number one choice for Book of the Year, and GoodReads Best of 2013 historical fiction award-winner. I would have to concur.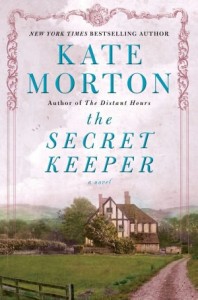 THE SECRET KEEPER
Kate Morton is one of my tippy-top favorite novelists ever. I love her style, her voice, her care with words, her attention to detail, the skill of her story weave, and her appreciation for her readers. If you've read nothing by her before, can I just gently say, where the Dickens have you been? I loved this book, as I have loved everything she has written. It is also a World War II book, but it's much more than that. If you like stories with overlapping time periods and special attention given to each of the main characters, you are in for a treat. After you read this one, get your hands on The Forgotten Garden, The House at Riverton and The Distant Hours.
AND THE MOUNTAINS ECHOED
I've been a fan of Khaled Hosseini's story-telling since he whisked me away with The Kite Runner. What I liked best about And The Mountains Echoed might be the very thing that others who've read him before didn't like. And that was the lack of a singular main protagonist on an obvious chronological pursuit of happiness.  This story is different, it is more episodic, far less linear than his other two books, and because it was so masterfully done, I loved this aspect of this book. And quotable quotes? They abound in the pages. Like this one: "It's a funny thing… but people mostly have it backward. They think they live by what they want. But really, what guides them is what they're afraid of. What they don't want." And this one: "For courage, there must be something at stake."  And this one: "They say, Find a purpose in your life and live it. But, sometimes, it is only after you have lived that you recognize your life had a purpose, and likely one you never had in mind."
So there you have it. My top 5! Were any of these in your top reads for 2013? What were your top 5? I'd love to know!