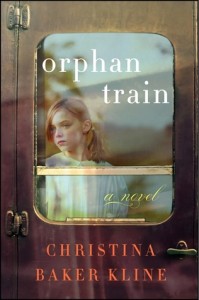 Whenever I read a novel of a child treated like dirt or a stray dog or a slave or an object to be used and abused, my Mama Bear instincts kick into high gear. I confess sometimes I can't finish the book, and sometimes I am driven like a mad woman  to finish the book because I am so intent on seeing that child rescued. When the narrator is the child herself, I am even more a prisoner of the pages and the story haunts me in between readings such that I must get back to it as soon as I can, not so much because I must see how the story turns out, but I must that child vindicated, and the wrong-doers punished. Sarah's Key, The Language of Flowers, The Hunger Games were all like that for me, as was this wonderful book, Orphan Train, by Christina Baker Kline.
One of the things I liked best about Orphan Train is the dove-tailing of a contemporary story with the historical main meal. It is my favorite way to write a novel, as I've used it for the last six I've written and will continue to do so as long as the ideal mill gives them to me. The present day framing of Orphan Train gives the historical chapters an emotional context that heightens the sympathetic yank  you already feel the minute you connect with the words of the young protagonist.
Here are the novel's details on its GoodReads page: "By the The author of Bird in Hand and The Way Life Should Be delivers her most ambitious and powerful novel to date: a captivating story of two very different women who build an unexpected friendship: a 91-year-old woman with a hidden past as an orphan-train rider and the teenage girl whose own troubled adolescence leads her to seek answers to questions no one has ever thought to ask.
Nearly eighteen, Molly Ayer knows she has one last chance. Just months from "aging out" of the child welfare system, and close to being kicked out of her foster home, a community service position helping an elderly woman clean out her home is the only thing keeping her out of juvie and worse.
Vivian Daly has lived a quiet life on the coast of Maine. But in her attic, hidden in trunks, are vestiges of a turbulent past. As she helps Vivian sort through her possessions and memories, Molly discovers that she and Vivian aren't as different as they seem to be. A young Irish immigrant orphaned in New York City, Vivian was put on a train to the Midwest with hundreds of other children whose destinies would be determined by luck and chance.
The closer Molly grows to Vivian, the more she discovers parallels to her own life. A Penobscot Indian, she, too, is an outsider being raised by strangers, and she, too, has unanswered questions about the past. As her emotional barriers begin to crumble, Molly discovers that she has the power to help Vivian find answers to mysteries that have haunted her for her entire life – answers that will ultimately free them both.
Rich in detail and epic in scope, Orphan Train is a powerful novel of upheaval and resilience, of second chances, of unexpected friendship, and of the secrets we carry that keep us from finding out who we are."
This book is a Goodreads nominee for a place among its best fiction for 2013. The site  is conducting their reader-based Best Fiction for 2013 poll. You can vote for your favorite reads right here: Sad that you can only vote for one book in each category.  Lots of great books in this category.
If you've read it, I'd love to  hear your thoughts. Or perhaps you can share your favorite story with a young protagonist who faces incredible odds and rises above them. Let's chat.