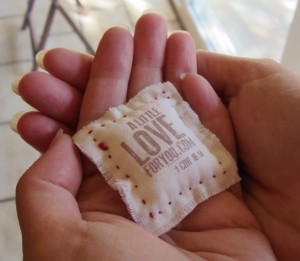 Picture this. You're in Starbucks, waiting for your mocha and in the corner of the coffee shop you see a young woman with her elbows on her table and her head in her hands. Her phone sits next to her upturned arms. She flicks away a tear and shakes her head subtly. It's obvious she's dealing with a difficult situation and she's alone. People are brushing past her, not bothering to notice how sad she is. But you notice. You don't know her and she doesn't know you, but as your name is called and you take your cup, you reach into your purse or pocket. You walk past her table and silently place a heart-stitched pillow, no bigger than a cracker, by her phone. Maybe you touch her shoulder as you walk away, maybe you just leave her with her eyes closed as you walk away, but you know when she opens them, she will see the little heart pillow and she will know she's not alone. Someone saw her hurting heart. Someone noticed.
This may or may not have ever happened, but it probably will someday because those little pillows really do exist. And so do people like the woman in the coffee shop.
The hearts are made by a dear friend of mine, Debby Thompson, and they are the tangible evidence of her labor of love called A Little Love For You. At first glance, Debby is a lovely soul who works in human resources, adores her husband Sport and adult daughter Nicole, and sews beautiful quilts. But get to know Debby and you'll soon find she is very much the kind of person to leave a little fabric heart to someone who needs reassurance that life is still beautiful, despite its hard days.
For nearly a year, she's been stitching the hearts and giving them away.
Sometimes she will press them into the hand of the harried checker who was treated brusquely by the customer before her. Sometimes she will leave them in a public place to be found by someone she will likely never meet. Sometimes she will give one to a good friend or a neighbor. Sometimes she will hand one to a hurting stranger.
Debby was inspired by her daughter Nicole Shepard's involvement with More Love Letters; an organization of more than twenty thousand people from nearly fifty countries who leave love letters for the taking just about anywhere, and who also mail letters of love to strangers in need of encouragement.
The idea that people could stumble upon something positive in their day, especially if they are facing a difficult path, moved her.
"But I'm not a writer," she said.  "I couldn't see myself writing a note. But I love to sew."
This led her to create her first pillow; a muslin pouf that fits in your palm, hand-stitched with a heart on one side and a verse reference from the New Testament and the words "A Little Love for You" on the other. If you ask her where she came up with the design, she will tell you it's more like it was given to her.
"I don't remember sitting down to draw a heart or coming up with the size of the stitches," Debby said. "There was no conscious process. All of the sudden I just had all these pillows. I think God just gave it to me."
She hand-wrote "A Little Love for You" on those first creations and tucked them in her purse to give out or leave as the occasion presented itself. But she didn't have a website yet. And the verse she originally chose to reference, John 3:16, didn't explain the pillow's purpose. Nicole suggested creating a website and including the address on the back of the pillow. This would allow people who found one to discover who made it, why it was left to be found, and what the hope was for the finder.
Nicole designed the  back to a stamped message to make production easier and Debby replaced the verse reference with a powerfully simple directive from 2 Corinthians 16:14: Do everything in love.
"I wanted a scripture that really represented the intention behind the pillow, and that anyone could relate to, regardless of their belief system," she said. "For people who don't know the Bible, for them to know that that verse is in there, that can be very powerful for them."
At the start of 2013, Debby challenged herself to give one away every day. She didn't tell anyone she was making the hearts and no one else knew either.
"I was only leaving them to be found, which is not as easy as it sounds. I'm not a sneaky person."
Then she shared with a friend what she was doing and the friend mused aloud what it might be like to actually hand them to people. The friend said she had recently been at Target and saw a frazzled young mother trying to deal with a toddler in full meltdown mode.
"My friend said she would have loved to have had one of the pillows to press into that mother's hand and tell her it's going to be okay," Debby said.
She shared her vision for the pillows with a few more people, all of whom wanted some of her hearts to give out. She got an idea to do something big for Valentine's Day.
Gathering seven friends together, they set out to make ten hearts each so that on Valentine's Day they would distribute seventy of the little love pillows. Then one of the pastors at her church asked if she could have twenty-five to hand out to a MOPS group she was speaking to on Valentine's Day. The little sewing group set out to make one hundred pillows. And all were given out on Valentine's Day. Some were left in public places, and some were given directly to someone who needed an extra dose of love on a day many people can feel left out.
Not long after the big Valentine's Day event, Debby got her first email from someone who had been given a heart, then visited the website and left a response.
"I found a hand sewn heart. It had a bible verse on it. It was the singular Valentine I received. I would like to thank the geniuses that found a way to include the lonely people."
-Keith
In fact, finders who visit the site can click on the Find One? link where this message awaits them:
It was intended for you…
We hope finding this little pillow brightened your day and let you feel a little love. It was intended especially for you. It may have been handed to you or you may have found it sitting on a shelf somewhere. We don't believe in coincidences. We believe in a God who loves you and works through people like us to remind you. Please email us your story (pictures are always welcome!)
Has anyone ever refused to take a heart offered to them?
"I don't really give them a chance to say no," Debby said with a laugh.  She doesn't engage in a conversation, she just hands them the heart with perhaps just a word of encouragement. (Usually, "Here's a little love for you,") If a conversation follows, it's because the recipient starts one.
To date no one has refused.
Quite the contrary, actually. Most people are so taken aback, they are often wordless with wonder at such a random act of kindness.
Debby smiles at the notion she's doing something amazing. Love and kindness really shouldn't so shocking, she said.
That it is, is proof that we need more of both.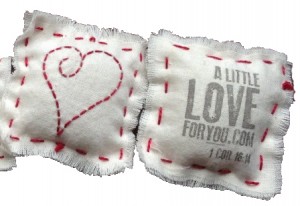 If you want to be a part of the A Little Love For You movement locally, you join Debby and her ALL4U seamstresses at a special Little Love Party, August 17 at the Church at Rancho Bernardo, 11740 Bernardo Plaza Ct  San Diego, 92128 from 2 to 5 PM in Room 21. At this event Nicole will be hosting a letter-writing party for More Love Letters and Debby will be orchestrating a sewing party for A Little Love For You. She is quick to add you don't have to sew or even like to sew. If you can fray edges by simply pulling threads, she can use you.
You can participate by either writing love letters, sewing pillows or both. Ages 10+ welcome! Please RSVP to Nicole Shepard at nicole@thechurchatrb.org if you'd like to take part.
If you're reading this from afar, I hope you will check out the A Little Love for You website and consider what your heart says to you when you visit.
Life can be hard, love is what softens the edges.