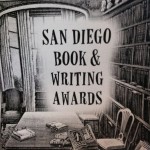 Last weekend as I getting ready to attend the San Diego Book Awards I was thinking how ironic it was that I was able to go this year (the last two years there had been major family events on the same evening) when I hadn't finaled , since the last two years when I couldn't go, I had. Still, I was happy to attend and cheer on my good friend, Sally John, who had finaled in the General Fiction category.  So there she and I were, sitting at the awards ceremony with her dear husband, Tim, watching and waiting for her category to come up. I was ready to hoot and holler for her, elegantly so because I was wearing a nice dress and heels, but the award went to one of the other three finalists. She and I both know that happens in award ceremonies; and she has learned as I have, that it really is enough to be nominated in a category that can have a dozen or dozens of contenders.
And then out of the blue I hear my name being read as one of the four finalists in the Young Adult category for THE GIRL IN THE GLASS. Before I can mentally grasp that fact, I am announced as the winner and therefore expected to rise, walk in the pointy toed shoes that are now hurting my feet, accept the award and say a few words.
You know how somet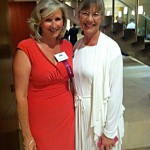 imes a person will say, when an accepting award, that they really had no idea that they would win and had prepared nothing to say? I can tell you they are quite easily telling you the the truth. I managed to thank my dear high school English teacher, Frank Barone, who told me almost forty years ago that I could write and therefore should do so and never stop, and I might have mumbled a few other things.  I wanted to say a line from Christmas Vacation ("I couldn't have been more surprised if I had woken up with my head sewn to the carpet") but didn't. That line is only funny if you've seen the movie a jillion times.
My hands were shaking as I held the mike, which doesn't often happen any more when I do public speaking. I think I was that afraid someone would realize a horrible mistake had been made and of course I wasn't the real winner.  There had probably been  an email telling me I had been nominated and which my spam folder had snatched away like spam folders like to do.  And I wouldn't have guessed that GIRL would have finaled in the Young Adult category since I wrote it for the general market. But what I like about this surprising award is that this book could have only stood out as Young Adult worthy if the character Nora Orsini, who is the only young adult in the story, came across as completely compelling. She had the fewest words of anybody in the story. To have won the hea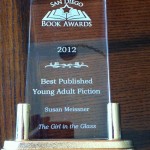 rts of the YA judges means a lot to me. Because it means Nora became alive to them, just like I hope and dream and sweat that every character will.
So thank you, thank you, thank you San Diego Book Awards for a wonderful jolt that affirmed me as a writer who wants her stories to resonate beyond the page.
The moral of the story? Be prepared for anything. You never know when you're going to be glad you wore your Big Girl shoes.