"Meissner's prose is exquisite, and she is a stunning storyteller."
—Publishers Weekly, starred review
Now available!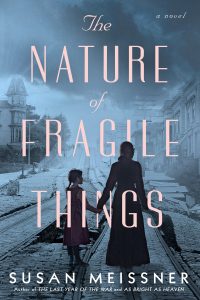 A mail-order bride desperate to get out of New York marries a mysterious San Francisco widower whose 5-year-old child does not speak, but her hastily cobbled-together happiness is forever changed by a massive earthquake that shakes up everything…
(starred review, Publishers Weekly)
1905 – Sophie Whalen is a young Irish immigrant so anxious to get out of a Lower Manhattan tenement that she answers a mail-order bride ad and agrees to marry a man she knows nothing about. San Francisco widower Martin Hocking proves to be as aloof as he is mesmerizingly handsome. Sophie quickly develops deep affection for Kat, Martin's silent five-year-old daughter, but Martin's odd behavior leaves her with the uneasy feeling that something about her newfound situation isn't right.
Then one early-spring evening, a stranger at the door sets in motion a transforming chain of events. Sophie discovers hidden ties to two other women. The first, pretty and pregnant, is standing on her doorstep. The second is hundreds of miles away in the American Southwest, grieving the loss of everything she once loved.
The fates of these three women intertwine on the eve of the devastating earthquake, thrusting them onto a perilous journey that will test their resiliency and resolve and, ultimately, their belief that love can overcome fear. Here is a novel about the bonds of friendship and mother love, and the power of female solidarity…
Pre-order at:
Barnes and Noble, Books-A-Million, Bookshop.org, Hudson Booksellers, IndieBound, Powells, Target, Amazon.
Praise for this book!
"Ingeniously plotted and perfectly structured, this captivates from beginning to end." – Publishers Weekly.
"T he novel is fast-paced and suspenseful…" – San Francisco Chronicle
"Vividly rendered in the chaos and mass destruction of the historic earthquake, Meissner's latest is a testament to the strength and solidarity of women in crisis."  – Library Journal
"Meissner's latest is her best yet, an ultimately uplifting story of strong women and found family."  – Booklist
"In The Nature of Fragile Things, the talented Susan Meissner spins a mysterious web of lies, love, and loss that accelerates toward the inevitable: the great San Francisco earthquake of 1906, which struck during the early hours of a seemingly ordinary April morning. Meticulously researched and utterly immersive, with an intimate mystery that unspools with increasing urgency, The Nature of Fragile Things will have you racing through the chapters to the shocking, satisfying end." — Kristin Harmel, New York Times bestselling author of The Book of Lost Names
"[A] poignant story about found family and a deft psychological thriller with shocking twists. Meissner is a masterful writer and this is a terrific tale that takes us on a harrowing cable-car ride through early 20th century San Francisco where dark secrets–like the city itself–crack wide open, forcing our world-weary heroine to confront the devastation done by the lies she's been told and by the lies she's still telling." — Stephanie Dray, New York Times bestselling author of My Dear Hamilton
"Another beautifully imagined historical novel from Susan Meissner, in which she takes the reader on an emotional journey to the devastating events of the San Francisco earthquake of 1906. Written with great tenderness, and driven by the unstoppable force of the three intriguing women at its heart, this is a novel to savor, and one to share with all the women in your life whom you admire." – Hazel Gaynor, New York Times bestselling author of When We Were Young & Brave
Where I'll be…
The current situation with COVID will prevent me from a physical book tour with THE NATURE OF FRAGILE THINGS, but I will be appearing at many virtual events, with crossed fingers that I will be able to do some careful book travel in July and August!
Mar 18 – I will be heading over to Carmel, Indiana for a virtual event at the Carmel Clay Public Library at 11 AM Eastern. The live event will be held on Facebook. All the details are right here. You don't even need a Facebook account! Simply visit facebook.com/carmellib/live at 11 am on March 18.
Mar 23 – Join me at Baker Book House in Grand Rapids, MI for an Author Chat, virtually, at 7 PM EST | 4 PM Pacific. Super easy to register for this free event. And I will be sending signed bookplates to the store so you can buy your copy of THE NATURE OF FRAGILE THINGS right there online and it will be signed.
April 6 – I will be chatting all things historical fiction at Wauconda Public Library (virtually) in Illinois with my fellow Berkley authors, Renee Rosen, Stephanie Dray, and Erika Robuck, who all have or will have NEW books out! It will be a live panel and our books will be available for purchase from the local Barnes & Noble. Registration for this free event is right here.
May 6 – Plans are in the works for either an in-person or virtual author chat at the Huntington Beach Public Library in Huntington Beach, CA. Stay tuned as we wait to see if we can have a in-person event.
May 20 – I will be at Wood County Library in Bowling Green, OH virtually for an author chat via Zoom, starting at 11 AM Eastern! All the details for this free event are right here!
MORE EVENTS ARE IN THE WORKS – CHECK BACK OFTEN!
For your reading pleasure…
An American girl's life is changed forever when her German immigrant parents are sent to a Texas WW2 internment camp…The Last Year of the War tells a little-known story of World War II with great resonance for our own times and challenges the very notion of who we are when who we've always been is called into question.
"Meissner has created a quietly devastating story that shows how fear and hatred during World War II changed (and even ended) the lives of many innocent Americans."—Kirkus Reviews
"A heartbreaking, thought-provoking work of historical women's fiction."—Booklist
"Highlighting a little-known story of World War II with heart-wrenching detail, this beautifully written novel will make you think about what it means to be American, as well as what—and who—determines our identity."—BookBub
"Vivid historical detail and elegant prose bolster this rewarding story of profound friendship, family, fear, and the pain that arose for American-born children of immigrant parents."—Publishers Weekly
"There's no shortage of books about World War II and internment camps coming out right now, given events in the news over the last year. Meissner's latest novel presents a more interesting, untold account than others."—Real Simple